Swing Away (Michael A. Nickles, 2016): USA|Greece
Reviewed by Katrina Storton. Viewed at private screening.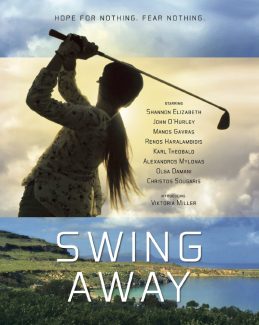 I was recently given the opportunity to attend a screening and Q&A of Swing Away (2016) in Rancho Mirage, California before it releases on March 10th, 2017.
Swing Away is about Zoe Papadopoulos, a professional golfer who travels to her grandparents' village in Greece to escape the harsh spotlight of the international sports world after being suspended from her tour. While enjoying the paradise that is Greece, Zoe meets ten-year old Stella, a determined golf novice. Zoe decides to take Stella under her wing and teach her golf.
The movie is light-hearted and wholesome. It is family friendly and offers the lesson of never giving up on your dreams. It features beautiful scenery from the island of Rhodes. The majority of the film is set at the Afandou golf course, one of the oldest golf courses in Greece.
Swing Away is directed by Michael A. Nickles (This is Not a Film) who you may remember as Jim Morrison from Wayne's World 2 (1993). Zoe Papadopoulos is played by Shannon Elizabeth (Love Actually, Thir13en Ghosts), well known for her portrayal of Nadia in American Pie (1999). The film also stars actor John O'Hurley, a well-known voice and television actor from things such as Santa Barbra (1990-1991), Frasier (1993-2004), Baywatch (1989-2001), General Hospital (1963-), Phineas and Ferb (2007-2015) and Seinfeld (1989-1998).
Swing Away's producer and writer, George Stephanopoulos, John O'Hurley, and former LPGA professional Golfer Nicole Castrale were in attendance for the Q&A after the film. George Stephanopoulos spoke very excitedly about how much of a passion project this film was for him. John O'Hurley also spoke of the film, his character, and his experiences during the filming in Greece with extreme fondness and gratitude. The film itself is simple and embraces the Greek way of life.
A fun bit of information: The reason Swing Away came to Rancho Mirage (Palm Springs area) was because of what my family and I call "the Greek connection." The majority of Swing Away's audience were members of my church, the Saint George Greek Orthodox Church. George Stephanopoulos brought the film out to our desert because he used to go to church camp with my parish's deacon. Also, Nicole Castrale who mentored all the actors in the film in golf, is a member of the church and my sister's godmother. Without these connections, the film more than likely wouldn't have made a stop in my desert. However, the film needs these connections to grow. Swing Away has taken a grassroots approach to promoting itself. George Stephanopoulos has been submitting the film to all the film festivals he can (Savannah Film Festival, New York Greek Film Festival, Cyprus International Film Festival), but it has been difficult because Swing Away is not a film festival type of film, it isn't on the artistic spectrum. Therefore, George has also approached church, Greek, and Orthodox outlets to promote his film. This method has worked before; it is how My Big Fat Greek Wedding (2002) was able to make it to theatres and bring in box office revenue; it used "the Greek connection."
I highly suggest seeing Swing Away when it comes to theatres March 10th, 2017. See it with your family, friends or children. It is a feel good movie with an inspiring premise.
Learn more about the film at SwingAwayMovie.com
Save

---
About this entry
You're currently reading "Swing Away (Michael A. Nickles, 2016): USA|Greece," an entry on Student Film Reviews
Published:

03.01.17 / 6am
Category: