AFI 2017 VR Tech Showcase
Reviewed by David Abernathy at the Roosevelt Hotel,AFI festival 2017.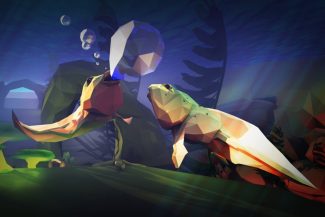 This was an incredible experience. The first piece I tried was Wonder Buffalo created by Simon Shterenberg. I was in a room with a girl sitting on the floor browsing through a magazine and snacking on something.With the remote they gave me I could grab a marker floating in the air.With this marker I was able to interact with different articles in the room,Super Cool.
I watched a couple short films. Potato Dreams a little disturbing film about a gay kid growing up in the Soviet Union.The next was a funny animated film about a one legged fighter and how with the help of his son was able to win the title.Night Night was a scary little short film about a little boy having clown nightmares , it was scary! The headset enables you to watch with a 360 degree view ,very impressive.
My favorite piece was a two person that I tried with my girlfriend was called Life of Us created by Zach Richter.We started out bubbles then morphed into fish.Then we were suddenly velociraptors then dragons. The whole time your motions move the character about.WE flew you've got to try it.Overall the whole event was awesome.I encourage everyone to go to this showcase if you get the chance.

---
About this entry
You're currently reading "AFI 2017 VR Tech Showcase," an entry on Student Film Reviews
Published:

11.16.17 / 11am
Category: