Secret Ingredient (Gjorce Stavreski, 2018): Republic of Macedonia
Reviewed by Ellia Rodriguez. Viewed at the Santa Barbara International Film Festival, 2018.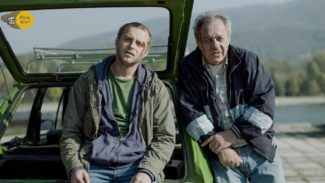 Secret Ingredient was personally my favorite film that I viewed at the Santa Barbara International Film Festival. It is defintley for an older audience for the suggestive themes of drug use. I believe this movie is worth a look and anyone can relate to the relationship of the son and father in this film. It wouldn't be an international film festival without some films from other countries. The Republic of Macedonia certainly brought a gem with director and screenwriter Gjorce Stavreski's Secret Ingredient. This was Gjorce's first feature film and it ended up winning Best International Feature at our own SBIFF 2018. Vele our main character of this film played by Blagoj Veselinov.
In Secret Ingredient we are introduced to Vele and Sazdo his father played by Anastas Tanovski. Vele is a poor mechanic who works for a boss that has a grimy office covered with sleazy calendars of naked women. Since money is tight for Vele he procedes to ask his boss for his paycheck. It looks like he is being taken advantage of because this is for labor he has already done. He is told that he can not pay him because he would have to pay everyone. He offers Vele a mezley 6 saying he doesn't even have money himself and understands his situation with his father. At home the situation isn't any better as we learn that Sazdo has lung cancer. Of course Vele can not afford the drugs for his dad's lung cancer and that point we are introduced to an ex-girlfriend who works at the health facility. They go on a date, but she leaves him stating that it's all the same issues again. Then Vele goes to work and at work he is to search a train for a bag of drugs left on it. Well, Vele being in the position he's in finds the drugs and takes them as his own to sell them. He tries to sell them by watching another drug dealer selling on the street, but this adventure is short lived after one sale. The person he sells to works for the other drug dealer and Vele ends up getting the crap kicked out of him shortly after. He tries to buy the drugs with the money he was able to hide in his sock while getting beat up. He goes to a local pharmacy and the price has just raised that day to amount he no longer has. He attempts to steal the medication and gets pepper sprayed. Bloodied and teary eyed he heads to a free internet cafe and looks up a recipes for weed cake. Vele stays up all night making a special type cake for his father. It ends up working so well on his father that he says he feels like he came back from death. Sazdo has a big mouth about his healing cake and soon the whole town hears about this miracle cake. Meanwhile at his work it ends up getting really intense about the missing drugs.
I believe that the screenwriting was really done well. The lines that the actors had really felt genuine and I enjoyed that even though this situation was a depressing one there was a lot of joking going around among all the characters. A lot of the framing was close up which adds even more to the feeling that we are a part of this story. A lot of framing with doors and entryways is shown throughout this film possibly to show that the director is opening the door into Vele's life.
Overall I would recommend this movie to anyone. Even people who don't believe in weed, because this story is way more than that. It is a wonderful story which anyone can relate to for the struggle of life and when it feels like you keep getting the short end. To do what one can even in devasting situations to have a joke or two and do whatever you can to help the ones you truly care about, family.

---
About this entry
You're currently reading "Secret Ingredient (Gjorce Stavreski, 2018): Republic of Macedonia," an entry on Student Film Reviews
Published:

02.16.18 / 11am
Category: