Gutland (Govinda Van Maele, 2018): Luxembourg/Belgium/Germany/France
Reviewed by Ellia Rodriguez. Viewed at the Santa Barbara International Film Festival, 2018.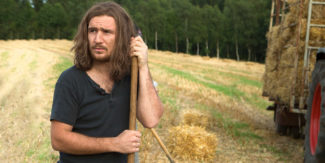 Goodness gracious what did I just watch?
Utterly stunning cinematography of beautiful and dilapidated landscapes.
Tell me what happened in this Luxembourg village before Jens meet Lucy.
Lighting adds to the story telling of a noir-ese film in the farmland.
Attention seeking women all around that were abused.
Not a clue why Jens ended up learning to play the trumpet.
Dominance is a subject of contention between these two lovers.

---
About this entry
You're currently reading "Gutland (Govinda Van Maele, 2018): Luxembourg/Belgium/Germany/France," an entry on Student Film Reviews
Published:

02.16.18 / 11am
Category: