Get the Weed (Denny Brechner, 2018): Uruguay/USA
Reviewed by Ellia Rodriguez. Viewed at the Santa Barbara International Film Festival, 2018.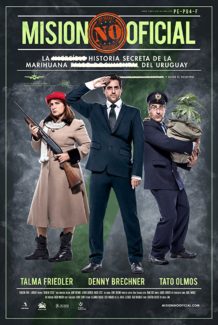 Get the weed is a mocumentary about a son and mother trying to get as much weed as they can from the Untied States to Uruguay. They try to achieve this by making a fake organization The Uruguayan Chamber of Legal Marijuana. If you want a good laugh and enjoy a mocumentary this film is worth a try.
The actress of this film found that people at the festival came up to her and said that they could relate to her character and appreciated that. In the first big scene it is in a pharmacy where people are trying out weed as a new medication. It turns out that this particular scene was actually a youtube video before it was in this movie. The youtube video was by the same people making this film. The video made a huge splash on youtube. This film was able to get the president of their country Uruguay, to play as himself in the film, José Alberto "Pepe" Mujica Cordano. Get the weed received a special mention from the Santa Barbara international film festival.
We follow Alfredo Rodriguez which already sounds like a made up name, who is played by Denny Brechner and his mother played by Talma Friedler who is actually his real mother. With the two of them we go on a mission to get the weed to Uruguay. Thier boss requesting this is the president of Uruguay Jose Mujica who keeps in contact with them while on thier travels.
There is a lot of text on the screen that gives us the audience an update and it feels like a spy movie. The movie shows a file like in a FBI case for example. Obliviously the chemistry is genuine between Alfredo and his mother, so it feels real because it is. This is seen in a wonderful scene where Alfredo is explaining the difference between a bong and a joint to his mother before they head to America.
This film reminds me of another mocumentary called What we do in the shadows. Much like this one we follow a group of people in a situation that is clearly made up.
So to conclude this mocumentary is definitely worth a peek for any movie goer.

---
About this entry
You're currently reading "Get the Weed (Denny Brechner, 2018): Uruguay/USA," an entry on Student Film Reviews
Published:

02.16.18 / 6pm
Category: