Meditation Park (Mina Shum, 2017) USA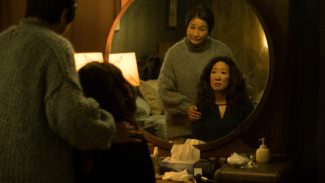 "Meditation Park" is a story that questions relationships, faith, devotion, self-discovery, and taking charge of one's own life. In Mina Shum's (Double Happiness, Drive She Said) fifth feature film, and her third with Sandra Oh (Grey's Anatomy), Shum wanted to study the relationship between a man and a woman, and ultimately to show how a woman can change her life to make it one that she is in control of.
The story revolves around an immigrant woman, Cheng Pei Pei, who serves her husband and takes care of him. The couple emigrated from Hong Kong, and have lived a happy life raising their family in Vancouver, Canada. The movie changes when Cheng finds an orange pair of women's underwear in her husband's pants and realizes that he must be having an affair. She follows her husband and sees him with a young woman. Cheng is shocked, and realizes how powerless she is. Instead of becoming depressed or morose, Cheng becomes motivated to take control of her own life. The story then takes on aspects of the hero's journey, as we watch Cheng try new activities, make new friends, and create a new life for herself.
Shum wanted to show that even the most powerless person can take control over their life. Indeed, Shum begins the story powerless, trained only to serve her husband, and we watch as she learns to create a life full of meaning, a life she creates for herself. Shum's intent was to inspire people to never settle and to take a stand if you are unhappy. Shum uses the "Hot Plate Exercise" to help her write and define characters. She has been writing for twenty years, and wants to write a comedy soon. I found Shum's desire to inspire other women to take control of their life empowering and an important topic to bring to life.
"A League of Their Own" (1992) takes on similar themes of women learning to step out from their expected rolls as wife and homemaker, and gaining an independence and a love of life through having their own life experiences.  Another movie that focuses on a woman finding her independence, although at a much younger age, is "Kiki's Delivery Service" (1989). Sandra Oh plays the daughter, Ava, in "Meditation Park." She also plays Cristina Yang on the TV drama series "Grey's Anatomy."
As a female empowerment film, what seems especially rare is that Mina Shum chose an older woman, a woman who has most of her life behind her, yet still finds the power to recreate her world. Portraying a wonderful message of empowerment, this film will give anyone a sense of enlightenment.

---
About this entry
You're currently reading "Meditation Park (Mina Shum, 2017) USA," an entry on Student Film Reviews
Published:

02.21.18 / 12am
Category: