Vanguard award at SBIFF; Willem Dafoe 2018
Reviewed by Ellia Rodriguez. Viewed at the Santa Barbara International Film Festival, 2018.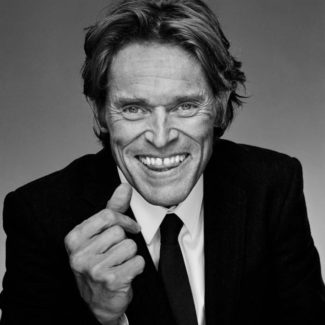 Willem Dafoe was presented the Vanguard award by the director of Fault in our stars Josh Boone at the 2018 Santa Barbara International Film Festival. They had a moderator to talk about all of his pass acting roles. Some of the roles that they showed and talked about included; Finding Dory, John Wick, The Fault in our Stars, Antichrist, Spiderman, The Last Temptation of Christ and Platoon. He was getting honored for his role as Bobby in The Florida project.
The moderator seemed very uncomfortable, unfortunately Willem was asked even more unnecessary questions. One such questions was about a award he did not win. The moderator explained that his performance in this film was amazing and he can not understand why he did not receive an award for this particular part. Then proceeded to ask him who ended up winning that particular year and one could clearly tell that Willem knew, but didn't want say. Later Willem was discussing his role in Born on the Fourth of July and that director Oliver Stone needed his performance to be more colorful. Then later on in the interview the moderator talked about his other performance being colorful enough  which made the discussion weird again. Willem was very nice and excited to talk about all the work on the different film sets. I wish that the moderator asked more interesting questions like what his favorite role was, his most challenging role and what role would he like to play in the future. The questions seemed  really basic stuff that could be easily on the internet.
Then Willem was presented the award by Josh Boone and he seemed to not know the name of the award and stated it was for "this award". This award ceremony was especially awkward at the end as drunk audience members were screaming and hollering for Willem to say lines from his past movies. Then people proceeded to ask for pictures and it was definitely chaotic, but he was very sweet about it the whole time. Regardless of these uneasy positions that Willem had to endure he was such a great sport about it all. He is an amazingly well rounded actor and it was great getting to see him in person.
---
About this entry
You're currently reading "Vanguard award at SBIFF; Willem Dafoe 2018," an entry on Student Film Reviews
Published:

02.20.18 / 12am