Cinema Vanguard Award honoring Willem Dafoe at SBIFF
Reviewed by Margaux Pfau. Viewed at the Santa Barbara Film Festival 2018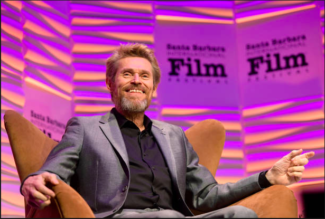 On Thursday, February 1st, SBIFF 2018 was honored to receive the great actor Willem Dafoe (3 Academy Awards nominations) for the Cinema Vanguard Award.
Interviewed by Pete Hammond, he went back on his amazing career, working on projects with remarkable directors such as Oliver Stone, Martin Scorsese or Kathryn Bigelow.
When talking about his career, he said that he remembers his life throughout the films he's been playing for.
The Last Temptation of  Christ (1988, Scorsese), was one of his most memorable film. Because of how hard it was to play, especially for the crucifixion scene. But he admitted that because of how intense it was, it had a real evocative power to him.
During the same year, he played in Mississippi Bruning (1988, Parker), a really different experience and a lesson for him. Indeed, he said that the movie was more than just a morality and that its controversiality showed him that cinema was actually a good media to show a clear political opinion. Dafoe added that Alan Parker told him after the movie: "Maybe you can show more colors". But for Dafoe, when your young, the best characters are villains.
He went back on his role for the Shadow of the Vampire (Academy Award nominee), saying that he was so transformed with the makeup that it just made it really easy to play the role of a Vampire.
Considering how different the movie Spider-Man (2002, Raimi) was compared to the other roles he had before, Pete Hammond asked him why he chose to play in a movie of this kind. Dafoe answered that not only he likes physical things but also for him wirework requires a pure performance.
He finally went back on his performance for The Florida Project (2017, Baker) which has given him a new Academy Award nomination (2018) for Best Performance by an Actor in a Supporting Role. He estimates that independent films give an actor, the opportunity to be aware and feel. For The Florida Project, it was interesting for him because they went filming on a real location, a part of the cast was people living and working there, so he had the feeling that he had to fit in their game. And it is the reason why the film gives a real mood. He alleged that nowadays we don't know how to feel anymore.
Josh Boone (director of the Fault in Our Stars 2014) came on the stage to give Willem Dafoe an award and added poetically: "When Scorsese saw the face of Christ, Lynch saw pure evil."

---
About this entry
You're currently reading "Cinema Vanguard Award honoring Willem Dafoe at SBIFF," an entry on Student Film Reviews
Published:

02.13.18 / 4pm