Holy Camp! (Javier Ambrossi, Javier Calvo, 2017): Spain, original title La Llamada.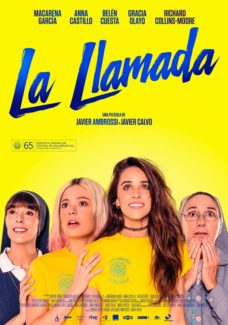 Reviewed by Diana Diaz.  Viewed at the Metro 4 Theater, Santa Barbara.
What if God were one of us? An old song from the 1990s asked that very question on at least a weekly basis over the opening credits of the TV show Joan of Arcadia. This film asks what if you could fall in love with Jesus just like you fall in love in real life? That's not the only question the film seeks to answer in the coming-of-age tale of two bored teen girls who love reggaeton, aren't shy about drug use, and are stuck at Catholic summer camp with some unexpected results.
Holy Camp! as an English title captures the irreverence of the events where a direct translation of the title as The Call or The Calling would fail. Bill Murrayish looking God sings the songs of Whitney Houston to Maria (Macarena Garcia) who looks Spanish Kristen Stewart. Who knew God liked Whitney Houston so much, but why not? Not only do the girls rethink where their lives are going, and even their sexuality, the nuns running the camp take some time for introspection.  Even if you can't keep up with the fast-paced banter in Spanish, the film still communicates it's outrageously absurd story well. Those who do understand Spanish will find it even funnier.
The cast features some virtual unknowns outside of Spain. Macarena Garcia (Maria) was last seen dressed as a female matador in the hypnotic, Seville-set, silent Snow White (Pablo Berger, 2012): Spain, for which she won a Goya Award for Best New Actress.  The film was overshadowed by the French silent The Artist (Michel Hazanavicius, 2011). Anna Castillo (Susana) also recently won a Goya Award for Best New Actress in The Olive Tree (Icíar Bollaín, 2016).
Many left the theater thinking it ought to be adapted into a stage musical – which it already was before its adaptation to film.  Most of the cast performed in the stage play at one time or another, with Garcia having originated the role of Maria in 2013.  As a result, the cast was primed for success, great chemistry, and performs at the top of their game.  The stage play continues to run in Spain and throughout the Spanish-speaking world.
If you were told that some guy wrote and directed a play with his partner, starring his sister, and then turned it into a movie she also starred in, you might question whether or not it would be any good.  But when it turns out so uproariously funny and performances snap in place so well, it's a treasure.   And it's currently available on Netflix.

---
About this entry
You're currently reading "Holy Camp! (Javier Ambrossi, Javier Calvo, 2017): Spain, original title La Llamada.," an entry on Student Film Reviews
Published:

02.12.18 / 9pm
Category: