Virtuosos award at SBIFF;Daniel Kaluuya, Hong Chau , John Boyega, Kumail Nanjiani , Mary J. Blige, and Timothée Chalamet 2018
Reviewed by Ellia Rodriguez. Viewed at the Santa Barbara International Film Festival, 2018.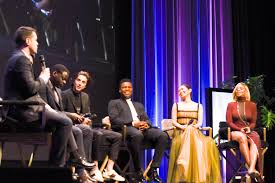 At the 33rd Santa Barbara International Film Festiva,l Dave Karger was awarding the Virtuosos Award  to Daniel Kaluuya, Hong Chau , John Boyega, Kumail Nanjiani , Mary J. Blige, and Timothée Chalamet. Dave got to talk each of these actors about the roles that they were receiving the award for. They would show a short clip of their work and then he asked them a few questions. After this portion they got all of the actors on the stage at once for a group interview.
Daniel Kaluuya got honored for his role as Chris Washington in Get Out. Dave asked everyone to share a random talent that they had. Daniel ended up doing an impersonation of Will Smith laughing which was a riot. He also talked about getting to meet Denzel Washington and Oprah Winfrey.
Hong Chau got honored for her role as Ngoc Lan Tran in Downsizing. She talked about how she felt so out of place because she is now suddenly in the limelight. I have not seen the movie downsizing, but after seeing her performance that was shown I want to see the whole movie now.
John Boyega got honored for his role as Dismukes in Detroit. When asked by Dave about a recommendation of a movie John said the Korean film The Good, the Bad and the Weird. John did an impression of Pinocchio from the Shrek series that was on point.
Kumail Nanjiani got honored for his role as Kumail in The Big Sick. He talked about the experience of writting a screenplay alongside his wife. During a fight scence he felt he had the best lines and when compared to her portions it was very close to thier actually fights. Which was something that they both laughed and joked about. Dave asked how she was doing with the cancer and there was some heartfelt words said by Kumil. Kumil also explained it was in remission for now which was good news.
Mary J. Blige got honored for her role as Florence Jackson in Mudbound. She also stated that she felt out of place because she was in the music industry for so long, but this is her first time as an actress and also getting awarded. For a question that was asked by Dave she said she felt like people assumed that she was mean before they even got to know her. She had my favorite outfit out of all of the actors a red and black sparkly dress.
Timothée Chalamet got honored for his role as Elio in Call Me By Your Name. Timothee seemed the most out of place with being honored in this way. He defintely had a larger fan base that came to this award ceremory than the other actors. There was one point where he was asked to do a talent. He decided to do an impression of Matthew McConaughey where he said lines from an email he had gotten from Matthew himself.
They all seem to know each other well because when the group interview came up they seemed like friends while joking and pointing fun at each other, this came especially from Kumil the whole night. This was definitely my favorite awards night and these actors were really fun people to watch just being themselves.
---
About this entry
You're currently reading "Virtuosos award at SBIFF;Daniel Kaluuya, Hong Chau , John Boyega, Kumail Nanjiani , Mary J. Blige, and Timothée Chalamet 2018," an entry on Student Film Reviews
Published:

02.19.18 / 10pm