Outstanding Directors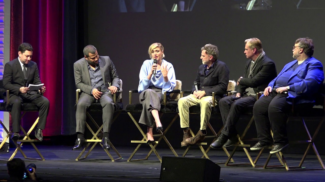 The Outstanding Directors Award was set on February 6, 2018 int the Santa Barbara International Film Festival, which included Directors Jordan Peele (Get Out), Greta Gerwig (Lady Bird), Christopher Nolan (Interstellar), Paul Thomas Anderson (Punch-Drunk Love) and Guillermo del Toro (The Shape Of Water). They spoke onstage during at the Arlington Theatre. This award was possibly the most popular award in the film festival. These five directors talked about their films, the story behind them, how they got where they are today, and experience in directing.
Guillermo del Toro shared his experience in directing his new film "The Shape of Water," When asked about why he chose to cast a monster as the actor in this film, he talked about how when he was young, he used to see this monster in his bathtub in his childhood, so that inspired the casting of the movie. He was dressed in a purple suit and has a nice attitude when talking. He thought up everything in "The Shape of Water" and said it was his dream to make a film about monsters. It was clear he had a lot of passion for film and an impressive happy attitude.
Director Jordan Peele talked about his film "Get Out." Touching on how it was the turning point in film for racism, and classism. "Get Out" is a very well-done horror film that makes a statement about politics and racism. Jordan Peele Spoke about his reasons behind making this film, and how it is important to have a platform and voice that can reach out to the African American community. He wanted to bring realization to our community. The title "Get Out" was a metaphor for an expression of the African American oppressed inner voice.
To close the ceremony, all the directors sat together on the stage and talked about their impression of one another's film and what's their next goal would be. Everyone spoke highly and complemented other director's films. Then they all received awards, and thanked everyone.
---
About this entry
You're currently reading "Outstanding Directors," an entry on Student Film Reviews
Published:

02.21.18 / 1am