Outstanding Preformers: SBIFF 2018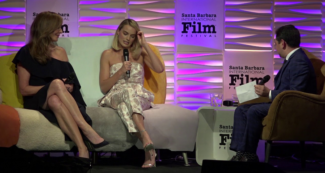 The Outstanding Performers Award winners Allison Janney and Margot Robbie were celebrated for their impressive performances in I, Tonya at the Arlington Theater for the 2018 Santa Barbara International Film Festival on Thursday, Feb. 8, 2018. Both actresses have also received nominations at the BAFTAs and SAG Awards for their acting in I, Tonya. Allison Janney was also recently awarded with the Golden Globe for Best Supporting Actress. The award ceremony was moderated and presented by Scott Feinberg, Awards Columnist for The Hollywood Reporter.
Margot Robbie and Allison Janney both talked about their history acting and how they got where they are today. Entertaining stories were spliced by videos of their past impressive acting. Margot talked about how before she was put on "The Wolf of Wall St." she was not really on the radar. She actually slapped Leonardo DiCaprio to get the part. She is from australia and both acted and co-directed I, Tonya. Allison Janney shared her struggle to get to her place today and how she started in NYC on Broadway and slowly made it into film. The ceremony ended with them giving a talk about I, Tonya and receiving an award for their hard work, persistence as actors, and talent.
---
About this entry
You're currently reading "Outstanding Preformers: SBIFF 2018," an entry on Student Film Reviews
Published:

02.21.18 / 1am