Starry Sky Above Me (Ilan Klipper, 2017)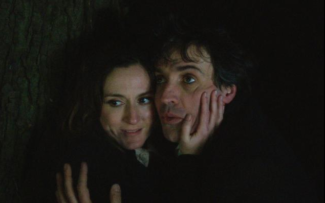 "The Starry Sky Above Me" is an enticing comedy that brings together a group of extremely eccentric characters in a way that makes it both hilarious and cringeworthy. This amusing and absurd movie was filled with comical idiocy. I was laughing, wincing, and as the film continues I became more emotionally invested in the characters. "The Starry Sky Above Me" puts you inside of the head of a struggling writer in search of inspiration. Directed by Ilan Klipper who co-produced it with Raphaël Neal. I saw it at a screening at the Santa Barbara International Film Festival.
Filmed entirely in an apartment in Paris where Bruno (Laurent Poitrenaux) a 50year old author with a bad case of writers block lives. His popular novel "The Starry Sky Above Me" was published in 1996. The plot of the film takes place 20 years later when he still hasn't published anything. He lives in a shared apartment spending his nights alone surfing the internet, waking up late, and wasting his days with his only companion: his pet parrot. His worlds changed when his parents (François Chattot and Michèle Moretti) pay him a surprise visit. Shortly after they arrive, they are followed by his ex-wife Laetitia, his best friend Justyna (Alma Jodorowsky), and a seductive psychiatrist Sophie (Camille Chamoux); his ex brought her worried for his mental well-being. Bruno is under the impression that his parents brought Sophie as a romantic set up and doesn't know that she is a psychiatrist. The only person who can really relate to him is his roommate Justyna. His ex-wife surprisingly selflessly wants to protect him. It quickly becomes apparent that they are there to take him to a mental institution. When two strong men come to take him away, he manages to escape.
Ilan Klipper puts the audience in the mind of Bruno and we are never really sure what is reality and what is a mental projection, the filming is the same which makes it interesting. There is a lot of visual stimulation and intriguing cinematography done by Lazare Pedron. Viewers will find themselves in a intriguing psychological bubble edited in such a real way (by Carole Le Page) that you feel like you are in his mind.
In a film that makes its viewers questions about how much of perception is reality, what is right and wrong, and how our actions come across to the exterior world, "The Starry Sky Above Me" will surely keep you on your emotional toes. No one really understands bruno but they are all trying to do the "right" thing- it is refreshing to see things from this perspective and understand how external appearances are often much more than they seem. This is a wonderful movie filled with action, emotion, confusion, and comedy.

---
About this entry
You're currently reading "Starry Sky Above Me (Ilan Klipper, 2017)," an entry on Student Film Reviews
Published:

02.21.18 / 1am
Category: