Giant (Aitor Arregui, Jon Garrano, 2017): Spain. Basque title: Handia.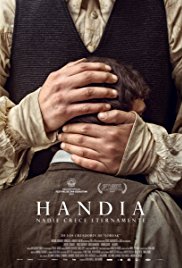 Reviewed by Diana Diaz.  Viewed at the Metro 4 Theater, Santa Barbara.
The Basque country of Spain's nascent film industry is really cooking along. Handia or Giant swept 10 Goya Awards in Spain, bringing it to international attention.  The writer/director team of Aitor Arregui and Jon Garrano also won national attention in Spain for their prior film Flowers (2014), (Basque title: Loreak). Giant relates real events from the life of the then world's tallest man, the Giant of Altzo who was around 8 feet tall at his death. But really, it's about the love between two brothers, complicated family relationships, and poor country people experiencing the modern world.
The father chooses one of his sons to go off to war. When Joaquin returns home, he finds his brother Miguel has grown taller both physically and metaphorically while Joaquin struggles to fit in back home after his service. Having been exposed to it, he embraces a broader and more modern world view by learning to speak Spanish and adopting modern dress of the time.  Meanwhile, Miguel's out-of-control physical growth leaves him grasping at anything Miguel can control to stay the same.  Miguel is hard-pressed to fit in the modern world, insistent on speaking only Basque and dressing like he does at home.  Costuming is a key component of the story.  The world outside the Basque country can be quite unforgiving.  The brothers love and depend on each other, but also keep secrets from each other and are deeply jealous of each other. And a 3rd brother muddies the waters further.
Set in the early 1800s, events unfold amid a backdrop of an idyllic, small mountain villa of the Basque country, deftly captured by cinematographer Javier Aguirre and wonderfully edited.  Dreamlike recurring imagery and motifs, as well and skillful lighting contribute a great deal to telling the tale. There are quite a few staging tricks, forced perspective, and digital effects involved in making Miguel bigger than everyone else.
Throughout the portrayal of real events, the story retains an aura of legend and magical realism which makes one wonder which things were true. Some of the most fantastic-seeming parts of the film are actually true, according to the filmmaker. But, since little is actually known, the many liberties of the story make for a drama as eternal as that of Cain and Abel.
Handia seems allegorical of the inner struggle facing all Basque people with respect to the broader world.  It's well worth seeing.  It will also represent Spain for the Ariel Awards, Mexico's equivalent to the Oscars, in the upcoming awards season.

---
About this entry
You're currently reading "Giant (Aitor Arregui, Jon Garrano, 2017): Spain. Basque title: Handia.," an entry on Student Film Reviews
Published:

02.13.18 / 12am
Category: