City Lights (Charles Chaplin, 1931): USA
Reviewed by Diana Diaz. Viewed at the Arlington Theater, Santa Barbara with live organist.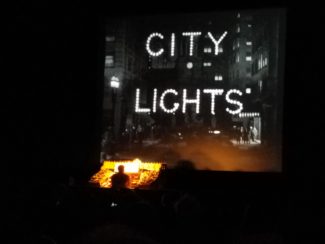 The charming classic tale of an adorable Little Tramp (Charlie Chaplin), falling in love with a blind flower girl (Virginia Cherrill), and doing anything he can to help her – even at his own expense – became one of the biggest hits of 1931.  The film also features a secondary plotline of a rich man (Harry Myers) who befriends the tramp in gratitude for saving his life, but forgets him when he's sober. The pathos-filled dramatic comedy is widely celebrated as one of Chaplin's greatest films.
So why is it at an international film festival known for showing new works and foreign language & short film Oscar bait?  Well, why not?  Those who organize the festival exhibit well-loved silent works as part of the Santa Barbara International Film Festival's free community outreach and educational program, Super Silent Sunday in conjunction with the Santa Barbara Theater Organ Society.
The Arlington, opened in 1931, hides its 2000 organ pipes behind the beautiful facade of a Spanish village along the sides of the theater.  The consul of the Robert Morton pipe organ where the keys are and the organist sits to play can be raised and lowered from the mostly-covered orchestra pit.  The organist plays in a semi lowered position so as not to block anyone's view while allowing him to watch while he plays along.   The Arlington was designed and built as one of the last of of the grand movie palaces, fitting the Spanish style chosen by the city after the 1925 earthquake.
And it was, in grand fashion, raised up from the floor with Master of Ceremonies and SBIFF executive director Roger Durling, casually leaning on it while organist Scott Foppiano played "You Ought To Be In Pictures."  It gave me the chills, it was so exciting.  If you have never heard this organ played, it fills the room acoustically in a way that electronic speakers just don't.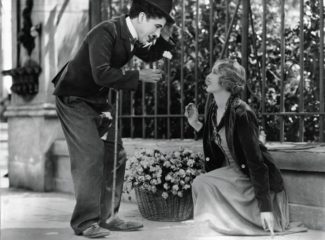 Chaplin inserted himself into every aspect of his films.  As an auteur & owner of his own studio, he wrote, directed, scored, edited, produced, and even got involved in hair, makeup, costumes, and camera placement.  He also preferred to apply his own makeup throughout his career.  Despite being considered a silent feature, the film came with its own prerecorded score.  But even in 1931, lots of theaters in the US still did not have sound technology, so they would have relied on an organist or orchestra to play along.
Foppiano went along with Chaplin's main idea of using the 1930 hit song "Violetera" (Who'll Buy My Violets) by Spanish composer Juan Padilla and played it in a wide variety of styles, along with other music.  In his book, which he allowed audience members to see if they got close enough, he wrote down cues from the action.  The music he played went along in a way that felt a lot like the score most of the time.
The organ's many sound effects operate similarly to a church organ in that they are activated by keys, but produce common sounds because it was specifically designed for exhibiting movies.  During the film, some of the sound effects gags like birds tweeting weren't quite on the cue exactly, but they gave a suggestion of the sound.  Some of the sounds were not quite what I expected, such as the sound gag of the Tramp hiccuping through an accidentally swallowed a whistle was the bird sound again.  It is sort of difficult to play music and hit these various sound effects perfectly.
Super Silent Sunday happens every year during SBIFF.  If you missed it this year, you can catch it next year.  Just click on the link to find out more about it.
---
About this entry
You're currently reading "City Lights (Charles Chaplin, 1931): USA," an entry on Student Film Reviews
Published:

02.22.18 / 12pm
Category: