Family (Laura Steinel, 2018): USA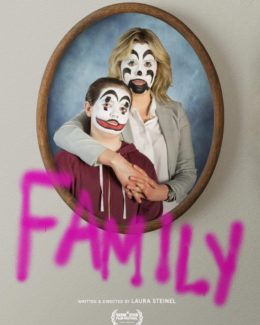 Reviewed by Carlie Klein. Viewed at the Chinese Theatre, in Hollywood.
Family tells the heartwarming story of a scathing, unattatched corperate woman, who finds what it means value each individual through the care of her 12-year old niece. The story deviates from traditional self-implosive comedy by including documented interviews of "juggalos", or fans of the rap group known as Insane Clown Posse. The culture plays a significant role in the movie, and highlights the inclusiveness the members feel when around likeminded individuals.
The film was shown in the Chinese Theatre, to a full audience. In attendance was the cast, including Taylor Shilling, Bryn Vale, Brian Tyree Henry, Jessie Ennius, and Blair Beeken. Laura Steinel, the director, accompanied the cast at the end of the movie and gave an insightful look into filmmaking process.
The movie begins with Kate, a middle-aged single woman, who is engrossed in her work and disconnected with social communication of everyday life. This manifests into rough relationships with her coworkers and family, leading her to a life of isolation. When her brother contacts her with an emergency, she finds herself watching her niece. When one night stretches into a week, Kate finds herself juggaling work and parenthood, with both working towards a downward spiral. She finds herself in a position of sacrificing one for the other, with consequences on either side of the coin. Throughout the movie, Kate's empathetic side begins to emerge, much to the enjoyment of her family and coworkers.
As stated by Laura Steinel, one of the best parts of this movie was the acting. She herself said the script alone was humorous and compelling enough, but through the performances of Taylor Schilling and Bryn Vale, the movie truly began to shine. In addition, Kate McKinnon had the audience rolling in laughter, bringing the same humor to the movie as she does on SNL.
The film draws comparisons to Bridesmaids, using ironically funny scenes to compliment the downward spiral of the protagonist, before finally having a resolution in which the female lead realizes what is truly important in life, solving much of her issues.
This film is absolutely worth a watch, even for the sheer amount of truly funny scenes one experiences. But beneath the comedic surface is a moving story of empathy and acceptance. This theme is further emphasized through the use of "juggalos", who seem extremely intimidating on the outside, but in fact preach an incredibly amount of acceptance and love for each other. All-star performances by Taylor Schilling and Bryn Vale make this movie a truly enjoyable experience, from beginning to end.

---
About this entry
You're currently reading "Family (Laura Steinel, 2018): USA," an entry on Student Film Reviews
Published:

11.26.18 / 11pm
Category: