The Weekend (Stella Meghie, 2018): USA
Reviewed by Jordan Barr, Viewed at AFI Film Festival 2018
The Weekend, directed by Stella Meghie, is not to be confused with a romantic comedy. It's main character Zadee, brilliantly played by Sasheer Zamata, feels like a comedian acting within a romantic comedy. Her character pokes fun at the cliche, overdramatic dialogue used in most romantic comedies. 
The movie starts out with Zadee performing her stand up comedy routine to a small crowd. She later meets up with her ex boyfriend Bradford, Tone Bell, and the audience is introduced to their complicated past and current relationship. Bradford invites his current girlfriend to tag along on the vacation Zadee intended to go on with just him. This creates an uncomfortable situation which sets up the perfect firestorm for Zadee's witty sense of humor. She handles every conflict in an extremely sarcastic and immature way, which I found incredibly relatable and based on the audience's laughter, so did most viewers. 
I throughly enjoyed this film and I think almost anyone who has been in a relationship can relate to it. Themes of past love, new love, unrequited love, and dying love are addressed in a comedic lighthearted way. I wished there had been more development in Zadee's new love interest's character, played by Y'lan Noel and her mother's character, played by DeWanda Wise, but both actors did an amazing job in their role. I thought Kym Whitley's performance as Bradford's new girlfriend was powerful. I left this film feeling refreshed and would absolutely recommend this film.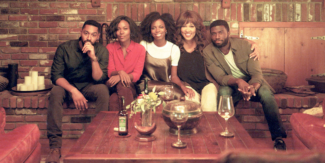 ---
About this entry
You're currently reading "The Weekend (Stella Meghie, 2018): USA," an entry on Student Film Reviews
Published:

11.27.18 / 10pm
Category: