Diving Deep: The Life and Times of Mike deGruy (Mimi deGruy, 2019): USA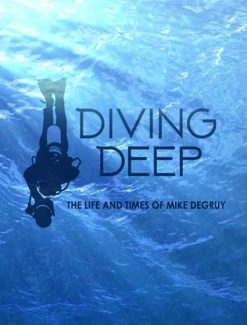 Reviewed by Gloria Kaye. Viewed at the 2019 Santa Barbara International Film Festival
This cinematic epic explores the underworld of the ocean and the many challenges facing the present and future of our oceans.  Skillfully executed, the director Mimi deGruy takes us into the life of her deceased activist husband, Michael deGruy.  We see his exuberance for life and the despair at the devastation following an oil spill in the very waters he knew as a child.
Michael has been described as an explanation mark. He was full of life and inventive in his explorations.  For instance, one sequence showed the devouring of seals by an Orcas whale. Mike wanted to mingle with the seals while they were at the waterline.  To disguise himself he lathered himself with seal dung and crept through the pod of seals.  He was cautioned that this was dangerous, but Mike was a daredevil who thrived by living on the edge.
Although the quality of the soundtrack was flawed, it significantly added to the story.  When the action of the underwater creatures was aggressive, the music was fast-paced, while the dream- like sequences of underwater sea creatures was matched with slower, soothing music.
The many interviews with family, friends, and colleagues worked well and was interspersed with still photos and old video clips.  Mike was a driven man and even as a youngster was highly competitive and determined.
Overcoming his horrific shark attack was another example of his heroism and determination.  Hospitalized for six weeks, he had many skin grafts including a graft from his buttocks.  His scarred arm was eventually healed and he rejected any intervention to address the scarring.  It was as if the scarred arm was his, and rightly so, badge of honor.
A very touching aspect of the film was the relationship he had with his wife.  They met as colleagues and continued their collaborations throughout his lifetime.  Toward the end of the film Mimi briefly mentioned Mike's depression, and his concern over his 60-year-old aging body.  His depression lifted when he was asked by James Cameron to participate in an underwater dive with a submarine.  He met his death in a helicopter crash while awaiting participation in the dive. His shocking end was a loss to all.
In retrospect, his sudden death was a blessing for him.  His zest for life was diminishing and although he was revived by the invitation to participate in the submarine dive.  Would there continue to be adrenaline spiking challenges for him, or would his depression become the norm for him?
---
About this entry
You're currently reading "Diving Deep: The Life and Times of Mike deGruy (Mimi deGruy, 2019): USA," an entry on Student Film Reviews
Published:

02.17.19 / 1pm
Category: