Producers Panel
Reviewed by Norma Perez. Visited at Santa Barbara International Film Festival.
At today's Panel, the following that were expected to be there were Glenn Whip (Moderator); Jim Burke (Green Book); Ceci Dempsley (the favorite); Bill Gerber (A Star is Born); Nicole Grindle (incredibles 2); Jonathan King (Roma); Raymond Mansfield (BlackKklansman); Kevin Messick (Vice); and lastly Nate Moore (Black Panther). Unfortunately due to the weather changing rapidly and worsening as the minutes were passing, the freeways were closed for the safety of the people in the community. So with that being said, only half of the people made it to the producers panel.
The three producers that were able to make it are the ones pictured in this picture, but the three said similar things such as having to truth their guts and trusting their film makers.
Bill Gerber from A Star is Born opened up to the audience about how difficult it was for them to shoot the scenes of Lady Gaga in just one day at stage coach. The whole crew having to be prepared for the worse or for the best, knowing that at any moment something could go wrong but also separating the crew to different parts. Overall, they were able to continue to film and Lady Gaga was able to do her part even though it was very stressful for the crew it self but also for Lady Gaga because they just randomly showed up to her house at the last minute because they weren't sure about her wanting to be part of this film.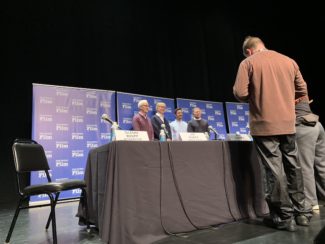 ---
About this entry
You're currently reading "Producers Panel," an entry on Student Film Reviews
Published:

02.19.19 / 8pm