Hugh Hefner's After Dark: Speaking Out in America(2018)
Reviewed by Benji Bearman. Viewed at the Santa Barbara Film Festival 2019.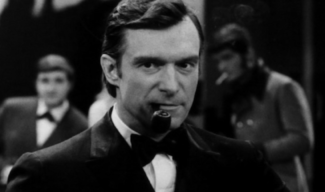 During the 2019 Santa Barbara International Film Festival a documentary film that stuck out to me as one I didn't want to miss was "Hugh Hefner's After Dark: Speaking Out in America"(2018),  directed by Bridgette Berman. This film illustrates the backstory of icon Hugh Hefner's prolific TV Series, "Playboy's Penthouse" and Playboy After Dark." Entering the show it seemed as if we were arriving at a private party inside Hugh's apartment. Hefner seized the opportunity to bring current acts to television.
Hugh was always cutting edge in the way he carried himself and hip in his beliefs. His show was the first time black performers were openly invited on TV and treated as well, people. He welcomed the likes of Ray Charles, Sammy Davis Jr., Jimi Hendrix and even hosted Nina Simone's tv debut. Not only did he invite black performers but interracial music groups as well. Hugh thought that you cant segregate music and that everyone should be listening to each other. People that were blacklisted on other networks Hugh brought on. The fight for civil rights of the 1960's has come full circle and is back again today in 2019, and for this we cannot stand for. We must speak our mind if we dare.
---
About this entry
You're currently reading "Hugh Hefner's After Dark: Speaking Out in America(2018)," an entry on Student Film Reviews
Published:

02.19.19 / 11pm
Category: