Outstanding Performer Award Honoring Rami Malek
Reviewed by Benji Bearman at the Santa Barbara Film Festival 2019.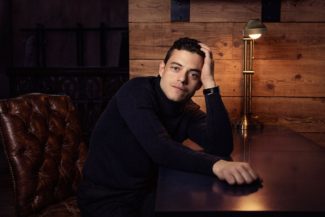 This year at the Santa Barbara International Film Festival I attending the Rami Malek honor ceremony, presenting him with the Outstanding Performer of the Year Award for his performance as Freddie Mercury in Bohemian Rhapsody. What an incredible experience! As I entered the grandiose Arlington Theatre, I was fortunate to have arrived at the same time as the man of honor himself, who was being interviewed nearly two meters from where I was standing. I gracefully took a cellphone video of him as proof and moved on to be seated. During his interview, Rami talked about his introduction to acting as a young boy in a Southern California high school and continuing on to studying theater in Indiana. After this he moved to New York and then back to Los Angeles. He then was seen on tv shows like The War at Home and The Pacific and, as he glowed up, movies such as Night at The Museum and Twilight. Malek made clear that once he got a choice in which roles he played he didn't want to be typecast to Egyptian or terrorist roles. 
Malek's real breakout role was as mentally unstable computer hacker, Elliot Alderson, in the physiological drama, Mr. Robot. This leads us to the reason we were all there, his role as musical legend Freddie Mercury in Bohemian Rhapsody. Malek's outstanding performance received critical acclaim. Rami faced and engaged the audience during the ceremony which was reassuring that this was an everyday man who had made something, something great, of himself. Rami Malek considers his performance as Mercury the most important in his career. Rami was awarded by Joseph Mazzello who costarred in Bohemian Rhapsody as Queen member John Deacon. Rami Malek gave a heartfelt speech thanking his agent, family, the fans, and most importantly the late Freddie Mercury.
---
About this entry
You're currently reading "Outstanding Performer Award Honoring Rami Malek," an entry on Student Film Reviews
Published:

02.22.19 / 8pm
Category: