Cinema Vanguard Award honoring Michael B. Jordan
Reviewed by Benji Bearman at the Santa Barbara Film Festival 2019.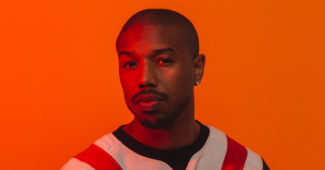 The 2019 Santa Barbara International Film Festival wouldn't have been complete without honoring Michael B. Jordan with the Cinema Vanguard Award for his work over the past several years, magnifying on his outstanding performance as Erik Killmonger in the global cinematic hit, Black Panther, and as Adonis Creed in the moving Creed II. Jordan said that in he got started modeling, doing commercials, and background work. His true breakout role was in 2013's Fruitvale Station, a collaboration with repetitive partner in crime, director Ryan Coogler. This role gave Michael an opportunity to voice his frustration about the realities black men have to deal with in the United States. He stated to prepare for this role, he practiced meditation calling on Oscar Grant, the inspiration for the film. Jordan and Coogler next worked together in 2015's Creed. Shortly after in 2016 Jordan started his own production company, Outlier Society Productions, and in doing so emphasized his belief in "[rolling] the dice, taking risks, and being bold." With this feat he proved that he could be more than an actor. He stated that "If you hold yourself to a higher standard then, you don't have to cut workers." In 2018 Jordan returned to the screen, as Erik Killmonger in Black Panther which sparked a cultural movement and many accolades. Jordan referred to Black Panther as "our Star Wars." Jamie Foxx entered the stage to present Jordan with the award. Michael B. Jordan left the crowd with some encouraging words before exiting the stage, he invited us to "Daydream as much as possible," and specified that "Hard work, cannot be replaced." Congratulations on the fantastic work, I cannot wait to see what is next in store for Michael B. Jordan.
---
About this entry
You're currently reading "Cinema Vanguard Award honoring Michael B. Jordan," an entry on Student Film Reviews
Published:

02.22.19 / 9pm
Category: