Family Members (Los miembros de la familia) (Mateo Bendesky, 2019): Argentina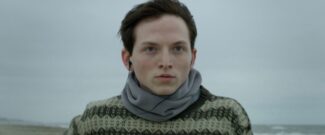 Reviewed by Luther Richert Viewed at the AFI Film Festival
"Hi, how are you?" is one of the most famous lines of world renowned singer-songwriter and outsider artist Daniel Johnston. His 2nd most famous line is "true love will find you in the end." I mention this because the film Family Members (2019) screened at the American Film Institute Film Festival in Hollywood reminded me of one of his songs. I was so sad when Johnston, who suffered his entire life with severe mental illness, died earlier this year because he seemed like the last person on earth who could speak sincerely about love and friendship with absolute confidence and certainty. I'm happy to report that this low budget little film screened at AFI under the category New Auteurs, director Mateo Bendesky proves I was wrong. Daniel Johnston wasn't the last love song!
Have you ever lay in bed and never wanted to get up? Have you ever been stranded without enough change in your pocket to get home? Have you ever cracked he screen on your phone and not had enough cash to replace it? Have you ever been so alone you think you might be invisible?
If you answered "yes" to any of these questions, Family Members has a message for you. You're not alone and, as unlikely as it seems right now, you too will find love in the end!
Only the second feature film from writer/director Mateo Bendesky, "Family Members" follows Lucas (Tomás Wicz) and Gilda (Laila Maltz) as they return home to their isolated and remote beach-town in order to fulfill the last wishes of their recently deceased mother and scatter her remains on the ocean. Instead of efficiently completing this dreaded and creepy task and returning to their big city lives as struggling students, they find themselves stranded because of a sudden and unexpected bus strike.  Now trapped indefinitely in limbo, the two try desperately to avoid the literal ghost of their dead mother by staying out of the bathroom where she committed suicide. Meanwhile, while dodging ghosts they are forced to confront their own poverty stricken, lonely and ambiguous future.
While stranded with no end in sight Lucas does his best to escape in every way he can. Obsessed with fitness, bodybuilding and Brazilian Martial Arts he inevitabley crosses paths with an ambitious townie/jock Guido (Alejandro Russek) with a YouTube channel who dreams of becoming an internet influencer and fitness guru.
As Daniel Johnston warned us, love will only find you if you're looking. Along the way Lucus and Gilda take nude selfies, learn tarot, perform sacred rituals, listen to great music (great original songs by Santiago Palenque) dodge their mother's greedy landlord, play video games and contemplate the possibility that we live in a virtual reality.
Rather than a Hollywood amusement park ride, Family Members is shot in the cinematic tradition of off-beat romantic comedies such as Buffalo 66 (Vincent Gallo, 1998), Punch Drunk Love (Paul Thomas Anderson, 2002) and You, Me and Everyone We Know (Miranda July ,2005). It's a film built on long unedited shots, extreme close-ups in highly personal and intimate settings and situations, wide angles of a turbulent seas and quiet and reserved performances that force us to feel our loneliness.
In attendance at the screening, Director Mateo Bendesky reported in the Q & A that he travelled to six different beach towns to create the lonely, desolate place we see on screen. The most unexpected place on earth to find love. But that's what happens in the end and I, for one, believed it was true!
---
About this entry
You're currently reading "Family Members (Los miembros de la familia) (Mateo Bendesky, 2019): Argentina," an entry on Student Film Reviews
Published:

11.25.19 / 8pm
Category: