37 Seconds (Hikari, 2019): Japan
Reviewed by Ryo Nishimura. Viewed at the Santa Barbara International Film Festival 2020 .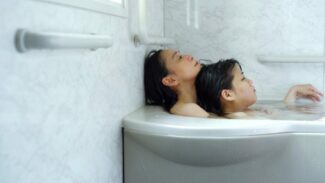 INT. COFFEE SHOP – DAY
COLIN, 18, a young film student from Santa Barbara City College, sits in a coffee shop alone. He blows into his large scorching hot coffee to cool it down; he anxiously taps his shoes on the ground, for this cup of coffee being his fourth today.
The bell at the top of the front door RINGS and we see another young man enter the coffee shop. He holds his Santa Barbara International Film Festival pamphlet in one hand and his keys in the other. RYO, 19, a film production major from Santa Barbara City College, scans across the coffee shop in attempt to find his friend Colin. After an awkward amount of time standing there and staring, he finally spots Colin at the opposite corner of the shop. He awkwardly waves and moves across the room.
Colin stops blowing into his coffee and looks up. Ryo takes a seat across from him and let's out a large sigh.
COLIN
Oh look at you, late as usual.
RYO
I was-
COLIN
You know, I should start telling you to meet somewhere 30 minutes earlier than the actual time so that you can actually show up on time.
Ryo shakes his head.
RYO
I was in a movie.
COLIN
At 10 in the fucking morning? –
BETTY, 37, a waiter wearing a red and white striped apron, walks up to the table. She's been working at this coffee joint since she was 15; the life is drained out of her face and she speaks with attitude.
BETTY
Anything for you?
Ryo sits there and looks down at the menu. Betty stands there tapping her ball point pen on her small notepad; she rolls her eyes.
BETTY
C'mon hun, could I just start you with a coffee?
Ryo closes the menu and looks up at Betty.
RYO
Sure.
BETTY
Any room?
RYO
No thanks.
Betty quickly turns away and walks into the back. Ryo looks back at Colin.
COLIN
So what'd you see?
RYO
Uh-
Ryo flips through his pamphlet.
RYO
37 Seconds-
Some Japanese film.
Colin takes a sip out his coffee.
COLIN
Any good?
Ryo let's out a small chuckle and shakes his head.
RYO
I mean.. yea. Just was kinda heavy to start the day with, you know?
(beat)
Shit was dark.
Betty comes back to the table and sets the cup of coffee on the table aggressively. The coffee spills a little on the table. She walks away to the back again.
RYO
Jesus.
COLIN
Why was it dark?
Ryo sits there in silence for a moment, trying to organize the story in his head.
RYO
Uh-
It was about this girl who was born with cerebral palsy and
she has this really over protective mom.
n' I mean like really overprotective. Kind of like your mom.
Ryo takes a small sip out his coffee.
COLIN
Fuck off-
RYO
Ah shit!
Ryo pulls the coffee away from his mouth, the coffee steams. Colin chuckles.
RYO
Anyways, the character in this movie just
kept on getting screwed over.
You think the cerebral palsy and the mom is enough to
start with but her friend fucks her over too.
COLIN
What do you mean?
RYO
So like hear me out…
Ryo organizes the story in his head once again.
RYO
So the main character's an assistant for this comic book artist, right?
Colin nods.
RYO
The comic book artist can't draw for shit,
but the main character is real good at it..
Anyways, the comic book artist takes all the credit
for her books and refuses to tell the public
that her assistant has a disability.
That make any sense?
COLIN
Kind of- So she gets screwed over by her friend
whose a comic book artist?
RYO
Right, right.
Colin remains silent.
RYO
So you think that's already enough on her plate, right?
Ryo counts with his fingers.
RYO
Cerebral palsy, bat-shit crazy mom, and terrible friend?
COLIN
Right.
RYO
And then a whole new conflict gets introduced that
her dad left when she was a baby!
COLIN
Jesus. Why?
RYO
Oh, I'm not sure, they didn't really get into it.
It was just kind of another new conflict.
COLIN
So what does she do?
RYO
She decides to go find her dad!
Colin takes a sip out his coffee.
COLIN
Isn't that a good thing?
RYO
No, no, no.
So she visits her dads house
which is like extremely far away,
n' she gets there and everything,
but then when she gets to the house,
her dads bother answers the door,
and let's her in, and on and on.
COLIN
Okay..
RYO
Turns out the dad died five years ago!
COLIN
Jesus.. this poor girl ever get a break?
RYO
Right?
Ryo blows into his coffee and takes a small sip.
Betty comes up to the table again and pulls out a small notepad from her apron pocket.
BETTY
So, you gon' eat something?
RYO
Uh- no, I'm alright. Thanks.
Betty sighs and shakes her head. Ryo turns back towards Colin.
RYO
Ok so, the dads dead.
Everything's real emotional in the movie.
People are cryin' n' shit in the theater.
The tensions high.
Colin nods.
RYO
And then the dads brother decides to tells
her that she has a damn twin sister.
COLIN
The hell? A twin?
RYO
Yea.. right?
COLIN
Where's the sister?
Ryo runs his hand through his hair and leans back on his chair. He lets out a sigh.
RYO
God. Damn. Thailand.
COLIN
What? Isn't it set in Japan?
RYO
Yes. Like what? Right?
Colin takes a moment to process the story.
COLIN
Why the hell is she in Thailand?
RYO
Apparently teaching at a school?
COLIN
So does she go to Thailand?
RYO
Yes. The stories all over the place.
Colin reaches for a pack of sugar, tears open the packet, and pours it into his coffee. He looks around for something to stir with but decides to stir with his finger.
COLIN
N' then what?
RYO
So she gets to Thailand.. somehow. Just kinda cuts to Thailand, you know.
COLIN
Sure.
RYO
And then she somehow finds the school and her sister. A lil' unrealistic but it's a movie so its fine.
Ryo drums his fingers on the brim of his coffee cup.
COLIN
So what's good with the sister.
RYO
So like the main character meets up with her sister
and is all like, 'hi, I'm your sister' and the twin sister is like
'oh ya, I know'.
Colin chokes on his coffee.
COLIN
So the twin sister knew about her the whole time?
RYO
Yep.
Ryo sighs and drinks his coffee. The coffee has cooled down.
COLIN
How long's this flick?
RYO
Oh- maybe 'bout two hours or so?
Colin nods.
COLIN
Hm.
They sit in silence for a while.
COLIN
So how'd they wrap this whole thing up.
RYO
Well
(beat)
She meets her sister in Thailand n' then flies back to Japan.
She sees her mom and confronts her about meeting her twin sister.
COLIN
The mom's been keepin' it a secret
RYO
Yea, I told you earlier.
COLIN
Huh, right.
RYO
Anyways the mom hugs her n' stuff and it gets real emotional.
Ryo sits in silence.
COLIN
Is that it?
RYO
Yea pretty much.
Colin sits there in silence and zones out on his coffee.
COLIN
(mumbles under his breath)
Jesus.
RYO
I mean, me explaining it makes it seem bad n' all
cause I'm real bad at explainin', you know.
COLIN
Yea, I'm not really getting it.
RYO
It was done well though.
COLIN
Well that's good at least.
RYO
Yea, the color scheme kinda reminded me of another movie-
Ryo stares down at his coffee.
RYO
I'm blanking on the name..
it's also set in Japan, with Bill Murray n' Scarlet-
COLIN
Lost in Translation?
Ryo snaps his finger.
RYO
Yes, yea-
Reminded me of it-
The conversation is beginning to die down. There's an awkward beat between each line.
COLIN
When did this come out?
RYO
Ah, pretty recently.. couple weeks ago.
They both sit in silence and look down at their coffee.
COLIN
Coffee's pretty shit here.
RYO
(lets out a forced laugh)
Yea.
CUT TO:
EXT. COFFEE SHOP – CONTINUOUS
We see a master shot of the coffee shop from outside. It's a beautiful day out, people walk down the sidewalk with their SBIFF pamphlets, birds chirp, the sky is blue.
THE END
---
About this entry
You're currently reading "37 Seconds (Hikari, 2019): Japan," an entry on Student Film Reviews
Published:

01.21.20 / 12pm
Category: