American Riviera Award Ceremony Honoring Renée Zellweger
Reviewed by Jacob Mohler at the Santa Barbara International Film Festival 2020.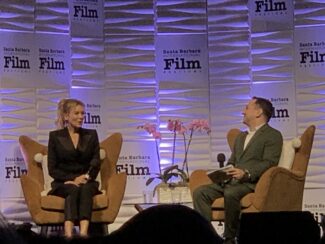 On January 15, 2019 the Santa Barbara International Film Festival honored the very talented Renée Zellweger with the American Riviera Award, an award given to an actor/actress that have transcended through their work in American film.
Throughout the evening, Hollywood Reporter columnist Scott Feinberg and Renée Zellweger take a trip through her history in film.
Scott Feinberg
"Well thank you very much for being for being here and uh, I want to begin at the beginning, where do you and your lovely accent hail from?"
Renée Zellweger
"Um, I'm Texan. *crowd cheers* Thank you very much."
*technical difficulties with microphone*
Renée Zellweger
"Katy, Texas is where I call home. Born in Houston. *crowd cheers* Thank you very much."
They then delved into her introduction to film and acting. She talked about taking an acting class with her brother Drew and that she joined it and really enjoyed it.
Scott Feinberg
"The fact that you're here today though, we sorta have your brother to thank because I think you looked up to him and what did he do?"
Renée Zellweger
"Yeah thats right, he took an acting class in junior high school and I thought it looked like so much fun. So I joined the speech and drama club and um… he quit."
*crowd erupts into laughter*
Next they discussed her college years and her time at the University Of Texas and pursuing a career in journalism.
Scott Feinberg
"And even after that at the time you went to the University Of Texas, the plan was not to be an actress, right?"
Renée Zellweger
"No, no, no, I thought that was part of my adolescent experience like twirling or track and field."
Scott Feinberg
"So you get there, so what happened in Austin that sorta changed that, I think there were somethings in class but also outside of class."
Renée Zellweger
"Yeah well I spent a lot of time trying to think about what went wrong, because I meant to be a journalist, I wanted to write."
They next talked about two major films she played a part in while still attending the University Of Texas, Dazed And Confused (1993) and Texas Chainsaw Massacre: The Next Generation (1995).
Scott Feinberg
"All of a sudden you're making two professional films while still being a student at University Of Texas with somebody else who has gone onto a fair degree of success in this town or in Hollywood. Can you share what that was all about?"
Renée Zellweger
"Oh sure, sure. Best work out of my life, being chased through the woods by Matthew McConaughey."
*crowd erupts into laughter*
They go on to discuss further about her early career and the smaller films she did while in college. They talked about her first big film where she starred as the lead, Love and a .45 (1994).
After that film was released she tried to start a career out of Los Angeles. She talks about being a bar-back at a bar in Los Angeles called "Three Clubs" on the corner of Vine and Santa Monica.
Scott asks her about her 26 year long business relationship with her agent, John Carrabino. They used to live across the street from each other in Los Angeles.
Then Feinberg asked Zellweger about her relationship with Casting Director, Gail Levin. He's a big time casting director that's worked on a lot of Tom Cruise movies. He got her the part of Dorothy Boyd in Jerry Maguire (1996).
She talks about her first day on the set of Jerry Maguire and how crazy it was that she was going to meet Tom Cruise.
Renée Zellweger
"I was just gonna go have a fun day and what a ridiculous day. You know, you're gonna drive over to the Sony lot… Tom Cruise is gonna be there… and he's waiting for you."
When asked about what her favorite part of being in movies was, she responded with this.
Renée Zellweger
"I love working on sets. I love the collaboration. I love telling stories. That's the joy for me. I'm not in a hurry and I'm not trying to make something happen. I'm just there for the day, and the crew and the experiences we share, you know, that's my joy and my bliss."
Scott Feinberg then delves into her start to comedy films starting with Me, Myself & Irene (2000) and Nurse Betty (2000). When asked what she felt about making comedic films and whether she enjoyed making them, she said this…
Renée Zellweger
"Oh sure, I love it, I mean it's all funny isn't it? It has to be doesn't it?"
Feinberg then asked her about one of her most well known roles playing the lovely, quirky Bridget Jones from the book beloved British book, Bridget Jones Diary.
She was up against some fierce competition for the role of Bridget, a few of them being Rachel Weisz, Tilda Swinton and Helena Bonham Carter. All British actresses and they instead picked a Texan.
Zellweger talks to Feinberg about the short transition after doing Bridget Jones Diary to doing Chicago. She was given the script by her agent, John Carrabino.
Feinberg then talks to her about how it felt to pick up that role having no background in dancing or singing. She responded with…
Renée Zellweger
"I didn't think about it that way. It's sounds so selfish, um, maybe it was. I thought about whether or not it would work and I said 'If you think it's gonna work, then yah know'. It's like if someone's gonna offer you ice cream, you better eat it while it's on your plate."
While she talks about the film she says how lucky she felt to be picked for the role and that she felt so honored just to be a part of the project and getting to see it all unfold in front of her.
Feinberg then delved into the very busy time in her career during the early to mid 2000's. It included Me, Myself & Irene (2000), Nurse Betty (2000), Bridget Jones Diary (2001), White Oleander (2002), Chicago (2002), Down With Love (2003), Cold Mountain (2003), Bridget Jones: The Edge Of Reason (2004), Cinderella Man (2005) and Miss Potter (2006). She took a break following these roles.
They then discuss her return with Bridget Jones Baby (2016) and Judy (2019). She wanted to play Judy Garland because she felt for her and wanted more people to see what it was like for her up until her death.
She received the American Riviera award from famous songwriter Diane Warren.
Renée really had such an amazing interview and just seems like the biggest sweetheart. So glad I got watch her speak and I hope she has luck at the Oscars.
---
About this entry
You're currently reading "American Riviera Award Ceremony Honoring Renée Zellweger," an entry on Student Film Reviews
Published:

02.04.20 / 9pm