That Click (Luca Severi, 2019): USA
Reviewed by Kate Marsden. Viewed at the Santa Barbara International Film Festival 2020.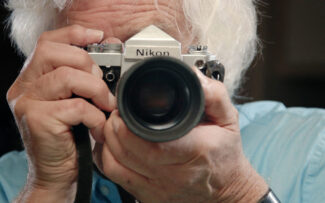 That Click is a documentary on the life and work of iconic photographer, Douglas Kirkland. Kirkland is featured in the confessionals of the piece and he described his work as "a combination of celebrity photography and photojournalism, not just pretty pictures".
A number of celebrities were featured in the confessionals of That Click and from the sound of it, they really wanted to be part of the project because they respect and revere Kirkland and his work so much. Sharon Stone, just to start with, says that his pictures have to do with Douglas Kirkland the photographer and the subject. She then goes on to reference the Judy Garland that Kirkland took of her towards the end of her career and sadly her life. Stone also notes that "you can't be full of shit to create art", implying that Kirkland most definitely isn't. Nicole Kidman says its disarming because he loves what he does. Kidman also mentions how she felt inferior when she was being photographed by him because he has photographed Audrey Hepburn and Marilyn Monroe.
His photos show the evolution of pop culture which is a beautiful gift to society. He gave his witness of pop culture and events and shares this with the world. Many of his iconic photos make the iconic movies iconic. Something that all of his subjects and most everybody interviewed spoke upon how Kirkland tries to make people look their best. He generously loves to share his eye and genuinely tries to make people look their best.
Kirkland has such a captivating life story and his journey to becoming a photographer is an entertaining one. One of his first jobs was when he worked for and got fired by Irving Penn for cleaning his windows.
I also attended a Q & A after the screening with the director who is Italian and didn't originally know who Douglas Kirkland was. He went on to say that something he wanted to get across with the film is "the idea that even if you aren't familiar with Douglas, you've seen his pictures". He also said how Kirkland knows how to get rid of self-consciousness (when it came to filming/interviewing him) and that comes with knowing what it means to be photographed. The director also mentioned the astounding fact that Kirkland has an archive of over one million photos. Someone from the audience asked who Kirkland wishes he could've shot or who he wants to photograph next to which the director replied, "Douglas just wants to photograph his next subject".
I found this documentary quite inspiring as someone who practices and loves the art of photography. Kirkland has such an impressive, expansive and diverse body of work that is so fortunately share with the world. Another great aspect of this documentary that the director noted is that all of the images used in the film are from Kirkland's personal archive so they didn't have to worry about dealing with all the rights to the numerous images.
This was an interesting documentary for anyone who he is interested in photography and or really just the evolution of pop culture through imagery.
---
About this entry
You're currently reading "That Click (Luca Severi, 2019): USA," an entry on Student Film Reviews
Published:

02.04.20 / 10pm
Category: