She's in Portland (Marc Carlini, 2020): USA
Reviewed by Kate Marsden. Viewed at SBIFF 2020.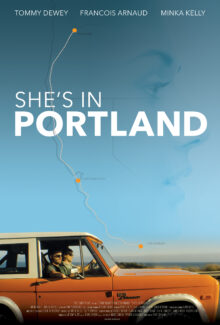 She's in Portland is a heartwarming romantic dramedy that highlights the power of friendship, what it takes to be a family and the ongoing of journey that is finding true love.
Wes (Tommy Dewey-who spoke at the Q&A after the screening) is a successful businessman on the east coast with a wife of 7 years and a 2 year old daughter who is beginning to get beat down with the monotony that can a lot of the times be adult life. His best friend from college, Luke (Francois Arnaud) is a lonely L.A. music video director. Their college reunion comes around and Wes calls up Luke begging him to give him a call back and use the flight tickets to the east coast (where they both went to college) that Wes has now bought for him to see him at the reunion. Luke is still in mystery mode at the reunion but his college sweetheart, red-haired Maggie, asks Wes and his wife where Luke is. So, Wes ends up on Luke's doorstep in California to persuade Luke to come with him an adventure to go win back his lost love in Portland. Luke explains that he has given up on love but Wes reminds him that he is the most hopeless romantic he knows. Wes has quite impulsive tendencies throughout their bro-trip mission to find Luke's lost love, the first one being purchasing the Creamsicle-colored vintage Jeep that can be seen in the poster. Luke and Wes travel up PCH to Portland and Wes encourages Luke to take part in lots of rendezvous along the way, from partying in IV with two bohemian UCSB college girls and driving them up to Big Sur (where Luke utters my favorite line from the film,"I can paint any beautiful delusion for our future"), to wining and dining a recent divorcee and her free-spirited friend and not so nice ones like getting robbed by a pair of seedy biker chicks one town away from the Portland border. This really is a great story that has a powerful take on what it means to be a good friend, partner and person.
At the Q&A, the director said that he just wanted to film a movie that took place on PCH and how the coast is the third character of the movie. It was interesting hearing all the backstory to how got they amazing locations that this film includes like how the mudslides allowed them to film on Highway 1 (Big Sur area). Dewey even said he went on a run while they were on location there one day and he just was jogging on an empty highway! It was also endearing to hear how the film is based off the director's life, even though he was bashful when disclosing this. Apparently, there was a real Maggie (with red hair!).
In conclusion, this was a feel-good movie with beautiful locations and an important reminder that life is short so just go for it!
---
About this entry
You're currently reading "She's in Portland (Marc Carlini, 2020): USA," an entry on Student Film Reviews
Published:

02.04.20 / 11pm
Category: