The Guardian Angel aka Murderous Trance (Halonen, 2018): Finland, Denmark, Croatia
Reviewed by Matheus Clorado. Viewed at the Santa Barbara International Film Festival 2019.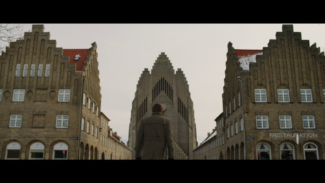 "Who controls your mind?"
A myriad of achievements is evident after one screening of Arto Halonen's new thriller Muderous Trance (originally titled The Guardian Angel). Certainly a highlight from Santa Barbara's 2019 International Film Festival, it recently won Best Feature Film at the Gold Movie Awards in London. Based on real events from the late 1940s Nazi occuppation in Denmark, this eerie feature dives into complex themes, such as mind manipulation, religion and justice.
Josh Lucas (American Psycho, Poseidon, Ford v. Ferrari) brings life to Bjørn Schouw Nielsen, a charming antagonist who denies his responsibility for Palle Hardrup's crimes (Cyron Melville). Investigation leads to their time together as fellow inmates, when Bjørn taught Palle meditation techniques and introduced him to a spiritual mission with assured protection by a divine entity called The Guardian Angel.
Pilou Asbæk plays Anders Olsen, a hard-working investigator, who struggles to prove his feelings right, but obsessively continues his quest for criminal evidence of Bjørn's guilt. Despite of colleagues' mockery, superior's opposing orders, and his wife's discontent, it quickly becomes clear that his eagerness to solve this case comes from a desire for fairness rather than self-accomplishment.
Anders brings Dr. Dabrowski (Rade Serbedzija) into the case, hoping his vast experience in the world of hypnosis can bring focus to the dangerous cat-and-mouse game Anders plays with Bjørn. The movie's tempo seems to accelerate, and the tension rises in perfect harmony with the film's score, a terrific job done by Tuomas Kantelinen.
Shot in gorgeous Croatia, the stunning visuals are assisted by cool colors, low and oblique angles, and metaphorical frames that capture the narrative elements of fear, power, mystery and history sharply. The initial whodunit style evolves into a psychological thriller that spellbinds viewers to sit at the edge of their seats.
This masterpiece is also an invitation to reflect on how manipulation can disguise itself and hide in many areas of society before someone breaks the spell. With The Guardian Angel, I believe Halonen has done it.
---
About this entry
You're currently reading "The Guardian Angel aka Murderous Trance (Halonen, 2018): Finland, Denmark, Croatia," an entry on Student Film Reviews
Published:

02.05.20 / 11pm
Category: