The Milk Of Sorrow (Claudia Llosa, 2009): Spain|Peru
Reviewed by Lea Encarnacion.  Viewed at the Mann Chinese Theater in Hollywood during the AFI Film Festival 2009.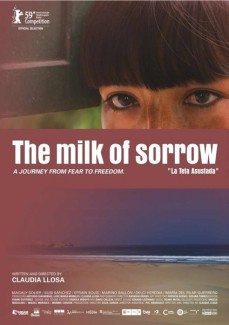 The Milk Of Sorrow (La Teta Asustada) is a sad and beautiful film about a Peruvian girl who had inherited a sickness through birth from her mother during Peru's terrorism and war time ('70s-'90s).  The film is filled with rich and vivid scenes and colors and unaccompanied songs sung by the lead characters, used to tell the drama of the past.  The film is directed by Claudia Llosa and features Magaly Solier, who have worked together in the past on Madeinusa (a film also about Peruvian indigenous culture).
In the opening scene, the mother sings a song in her home, telling the story of her gruesome and terrorized past, and then passes away shortly after.  Her daughter, Fausta, is traumatized and left to stay with her uncle.  His family is poor and her uncle cannot afford to pay for his own daughter's wedding, his sister's funeral, and for Fausta's medical expenses.  So, Fausta goes and finds work as a housemaid for a famed pianist to earn money in order to pay for a proper burial for her mother.  When the pianist hears her singing, she offers the pearls from her necklace in exchange for the melody.  As it turns out, she is very manipulative and had used Fausta's melody to play it at her concert for her own benefit, not giving Fausta the promised pearls and leaving her out alone on the street.  Fausta faces other obstacles like her fear of being alone, and having medical conditions from a potato in her body, which was placed inside her so that she wouldn't face her mother's experiences. Other scenes include weddings and of Fausta befriending the pianist's kind gardener.  Will Fausta find resolution for herself and her mother in the end?
This film is beautifully shot, with strong direction, warm music, and cinematography that evoke a great atmosphere.  The rhythm and pace is slow and steady, which fits perfectly for the dramatic sequences that observe Fausta's aloofness, entrapment and isolation from a distance. Magaly Solier (who plays Fausta) gave an award-winning performance in this film and is a very talented actress as well.  The Milk of Sorrow is very similar to the film Madeinusa (also directed by Claudia Llosa and features Magaly Solier).  The Milk Of Sorrow is worth a watch and I would recommend it to anyone.
---
About this entry
You're currently reading "The Milk Of Sorrow (Claudia Llosa, 2009): Spain|Peru," an entry on Student Film Reviews
Published:

11.10.09 / 1am
Category: