Julianne Moore Tribute (Santa Barbara International Film Festival's Montecito Award)
Reviewed by Rowan-George Smith.  Viewed at The Arlington Theatre, Santa Barbara Film Festival.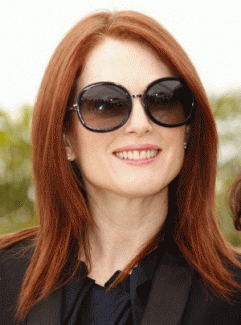 Redheaded army brat, Julianne Moore was awarded the Montecito Award on Thursday, February 11, 2010 at the Arlington Theatre in Santa Barbara.  I had the great opportunity to attend the Julianne Moore tribute and what a treat it was.  I was super excited to hear Julianne speak and yet, I must confess, I'm not familiar with her work.  However, I have seen a few of her films, Hannibal being one of them.  During the interview, montages were put together of this young actresses' work, and there was so much work she's accomplished, I became intrigued to see many of the films that sparked my interest, now my Netflix queue is all Julianne Moore films.
Julianne kept the enlightening and very engaging conversation going for over two and a half hours, and there were several moments where she'd burst out with a big and memorable great laugh…she is really a funny gal and loves to be goofy and just laugh.  Julianne spoke about her childhood, and it was fascinating to learn about her background. She was born in North Carolina and is a proud army brat.  Her father was a lawyer in the army and before she reached the age of eighteen, her family moved around about 23 times, and Julianne attended eight schools, and graduated from Frankfurt American High School in Germany.  It was in high school, where a teacher took notice of her acting abilities and saw great potential in the young teenager and Julianne returned to the States and received her BFA in Acting, from Boston University – School of Performing Arts.
Julianne moved to New York and worked extensively in theatre and was cast in the soap opera, "The Edge of Night" and, for three years she played two half-sisters on "As The World Turns".  Julianne positively reminisced about her time on ATWT playing two characters, which earned her a Daytime Emmy Award.  She began receiving many supporting roles in numerous films which led to bigger parts, and her most known films, Vanya on 42nd Street, Todd Haynes' Safe, Nine Months, The Lost World: Jurassic Park, her break-out film Boogie Nights, The Big Lebowski, Gus Van Sants' remake of Psycho, The End of the Affair, Magnolia, Hannibal, Far From Heaven and The Hours, along with many more films not mentioned, paved the way for Julianne's consistent and accomplished film career.  Some of her recent films include: Todd Haynes' I'm Not There, Tom Fords' A Single Man, and Chloe.  Chloe was included in this years Santa Barbara Film Festival line-up and, is definitely a must see Julianne Moore film.
During the tribute, Julianne spoke about how she's learnt to read every script she receives.  And she added, that she's not a fan of research, however she likes to make her characters as specific as she can.  Julianne also talked about how she is attracted to story more so than character.  She is also a writer of two children's books.  She mentioned the new release of "Freckleface Strawberry and the Dodgeball Bully", she shared her inspiration for the book and she sure is a riot when it comes to storytelling.  There's something special about redheads, I'll say.
---
About this entry
You're currently reading "Julianne Moore Tribute (Santa Barbara International Film Festival's Montecito Award)," an entry on Student Film Reviews
Published:

02.23.10 / 10pm