Julian Moore Montecito Award
Reviewed by Jacqueline Gomez at the Santa Barbara International Film Festival 2010.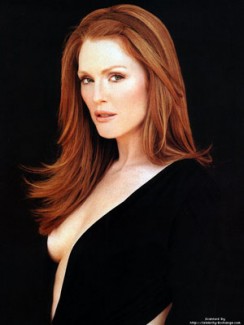 I was very excited to see Julianne Moore at the Arlington receive the Montecito Award. I had attended award shows in the past but I really enjoyed everything Moore had to say. I was surprised to find out that she really didn't do much acting until her early twenties, mostly due to a teacher in high school sparking her interest much later in life. Her father was in the army and she moved around a lot which always made her the new kid in class.
I was surprised how down to earth she was. I usually consider actors or actresses these snobbish people who think of themselves as gods gift to the planet. However Moore isn't like this at all. She was laughing with the interviewer and making jokes the entire time.
I hadn't seen many of Moore's films but so many clips were shown that night from movies such as "Children of Men" and most recently "Chloe." Moore is such a versatile actress with such an interesting look. She was almost irreconcilable in some films with her blonde hair and dark lashes.
I think overall I gained a new respect for actors and their talent. I am also interested in working on set someday and was intrigued to learn about how Moore dealt with many of the directors that she has worked on set with. Julianne Moore is more than deserved to receive the Montecito Award and I hope she continuous on to make wonderful films.
---
About this entry
You're currently reading "Julian Moore Montecito Award," an entry on Student Film Reviews
Published:

02.23.10 / 12am