Q&A with Director James Keach, Waiting For Forever, 2010
Reviewed by Rowan-George Smith.  Viewed at the Metro 4, Santa Barbara Film Festival.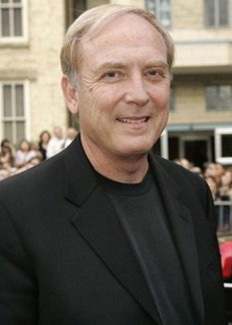 The Director of Waiting For Forever, James Keach was on hand to do a Q&A, on February 10th, after the first screening of his film at the Santa Barbara Film Festival.  From my understanding, on another day when the film was also screened, James Keach did a Q&A that included the star of the film Tom Sturridge as Will Donner, Scott Mechlowicz as Jim Donner and Nelson Franklin as Joe.  (Pictured, Actor/Director, James Keach).
Waiting For Forever was filmed and produced with a $5 million dollar budget by Catfish Productions.  At the Q&A, it was revealed that they shot the film in Ogden and Salt Lake City, Utah.  David mentioned that they worked with a pool of actors locally in Utah for small roles and for background players.  The film is written by Steve Adams.
During the Q&A, the audience was very surprised to learn that actor, Tom Sturridge is British.  Sturridge, plays a young drifter, Will who is reunited with his childhood forever friend, Emma, played by Rachel Bilson.  His American accent was flawless and David included that the young actors playing Emma and Will were very talented and joked that the boy playing the young Will in the flashback scenes was better at juggling than Sturridge.
The film also includes the dynamic Blythe Danner and Richard Jenkins, who play Emma's (Rachel Bilson) parents. He talked about how during filming it was like watching a master class in acting with these two established actors. David mentioned that Jaime King, who plays the role of Susan Donner, originally auditioned for the role of Emma, which went to Rachel Bilson.  And, David shared with the audience that he worked with Rachel Bilson on set the most, and that she had a nickname for him that was an inside joke with them on set.  The movie will be released nationwide in 2010.
---
About this entry
You're currently reading "Q&A with Director James Keach, Waiting For Forever, 2010," an entry on Student Film Reviews
Published:

02.24.10 / 9am