Frozen (Chris Buch, Jennifer Lee, 2013) USA
Reviewed by Caroline Juul Mortensen at Santa Barbara International Film Festival 2014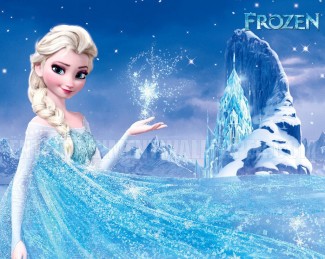 I am just going to start out by saying what everyone else has been saying about Frozen: amazingly well done! It is not a secret that this animated fairy tale is extremely beautiful and for the first time Disney manage to tell a story where the princess is not being saved by a prince in shiny armor but by her sisters love.
Frozen is the 53rd animated feature of the Walt Disney Animated Classics series and it is inspired by Hans Christian Andersen's fairy tale "The Snow Queen". A funny little fact is that he was a Danish author and poet born in 1805, who also wrote "The Ugly Duckling" and "The Little Mermaid", which Disney also has been inspired by. And since I am from Denmark I am allowed to brag a little.
The film is about two beautiful sisters, Anna and Elsa, but they are not ordinary girls; they are princesses of the kingdom of Arendelle. Anna is a wild, courageous and loving girl and the same was Elsa but she is also gifted with the power to control and create snow and ice and one day when they were kids, Elsa hurt Anna with her powers and ever since her magic was kept as a secret for her little sister and her people. She isolated herself afraid of the world and to hurt the people she loves spending every moment to suppress her mounting powers, but on her coronation day her emotions triggered her powers and an eternal winter was thrown upon Arendelle.
Now Anna setts off to find her sister and to bring her back to the kingdom, which she also has to save from eternal winter. On her heroic journey she meets Kristoff and his best friend the reindeer Sven, (my favorite) the little snowman Olaf, a huge snow monster and a bunch of little singing trolls.
It is truly a magical tale and it will leave it's mark on you like most Disney movies have the tend to do. I must say that even though the technology has become a lot better than it has been the new Disney movies do not touch in the same way as the old ones did it. Yes "Frozen" is a stunning film but I don't think the story is as strong as for example "Sleeping Beauty" or "Lion King". People are also going crazy about the song "Let It Go" from the film but in my opinion it is not at all as heartrending as Phil Collins songs in "Tarzan" or Elton John's in "Lion King". I think this movie is a bit too overrated cause with the techniques today there is truly a lot of amazingly animated movies out there.
But with that being said I definitely think this movie is worth watching. It is filled with beautiful colors and astonishing graphic, great characters, splendid music and lots of good humor. Definitely a film worth your time.
---
About this entry
You're currently reading "Frozen (Chris Buch, Jennifer Lee, 2013) USA," an entry on Student Film Reviews
Published:

02.17.14 / 3pm
Category: